Granite City Grizzlies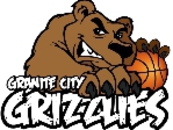 Granite City Grizzlies
Granite City Grizzlies - Its time to Roar!
Granite City Grizzlies
Granite City Grizzlies Basketball Club
The Granite City Grizzlies is an Aberdeen basketball club that is based at the Beach Leisure Centre. The club is one of the most competitive teams in the North East, competing in the National League Division 2 League, Grampian League and Cup, Chairmans Cup and Scottish Cup. The club was established in 2009 with a senior men's team, winning the Grampain cup title in their debut season.
In 2011 the club welcomed its first senior womens team who had a successful first season taking home the Grampian league and Cup titles.
Training Information:
Senior Men - Monday's 20:00-22:00
Senior Women - Tuesdays 18:00-20:00
Aberdeen Beach Leisure Centre.
For those interested in participating in training sessions please visit our contacts page.
Weather

0 MPH SSW
87% humidity
Mon

12°C
8°C
Tue

14°C
10°C
Wed

12°C
6°C
Thu

10°C
7°C
Follow the site to get the latest news and results straight to your email
Contact List

Stewart Cant
gcgrizzlies@hotmail.com


Bethany Lamont
bethany-04@hotmail.co.uk